SPACE Prize 2015 Finalists
We're very pleased to announce that we have been selected as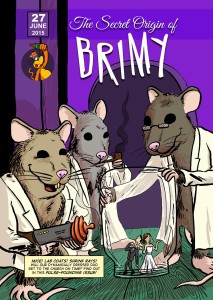 finalists for an award in two categories for the 2015 SPACE Prize. Our book, The Secret Origin of Brimy, in the Minicomics/ Short Stories category and our webcomic, Drunken Cat Comics, in the webcomic category.
Derek and I are truly honored to have made it to the finals again this year. I'm thrilled that The Secret Origin of Brimy is a finalist! It's a very important comic for me as it's the story of how I met my wife, Amy, and stands as my first collaboration with my wife on a story. Amy and I worked on it together during the months leading up to our wedding and, after a mad dash at the end, gave the comic out as a wedding favor on the big day. I suppose the comic could also be viewed as a prequel of sorts to my graphic novel and SPACE Prize winner, Fear of Flying.
Both Derek and I are also thrilled that our webcomic, Drunken Cat Comics, is a finalist as well! Derek and I have been working our butts off last year to make the best webcomic we can muster. We're incredibly happy that our efforts have not gone unnoticed.
The winners will be announced during SPACE 2016 on Saturday, April 9th. SPACE is easily one of our favorite comic conventions to attend and if you live near Columbus, OH and haven't checked it out yet you're missing out. It's a great convention filled to the brim with awesome indie and small press comics. Plus, this year, admission is completely free! SPACE is a two day event that's held on April 9th and 10th this year.
Don't miss out on all the great comics at SPACE, keep your fingers crossed for us and we'll see you all at the show!