The Big Year has been Released!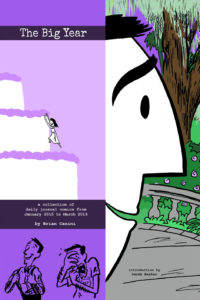 Derek and I are pleased to announce that The Big Year has been officially released! For those of you that missed out on the Kickstarter, now you can order your copy of our latest graphic novel.
Bear witness to a glimpse in the life of a 30-something cartoonist as he experiences all the major adult milestones; getting married, buying a house and becoming a father. This personal account explores all the joys and anxieties that surround finding ones life changing from a man who moves back home to be with the woman he loves into a husband, father and homeowner, all in the span of a month (and change).
Don't be the last kid on your block to pick up The Big Year! It's currently available through local Columbus comic shops, Amazon and our website store and will soon be available for download via Amazon Kindle, with other devices to follow.