S.P.A.C.E Prize Finalists
We're very pleased to announce that Fear of Flying has been selected as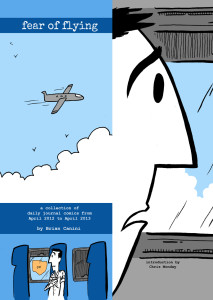 a finalist for an award.
The 2014 SPACE Prize in the category of Graphic Novel to be exact.
Derek and I are truly honored to have made it to the finals this year. Fear of Flying started out as an exercise to get me drawing regularly, it ended up being a document of my day-to-day life that would take me from San Diego, California to Columbus, OH and record the emotional roller-coaster in between. Fear of Flying was truly a labor of love and I'm incredibly happy to be nominated.
I think this is as good place as any to thank Chris Monday (who's book Drink More Water inspired me to give journal comics a go), Amy Shook (who inspired most of the material in Fear of Flying), Derek Baxter and Heather Hively (for their support and kind words).
The winners will be announced during SPACE 2015 on Saturday, April 11th. SPACE is one of our favorite comic conventions to attend and if you live near Columbus, OH and haven't checked it out yet you're missing out. It's a great convention filled to the brim with amazing talent and comics.
Keep your fingers crossed for us and we'll see you all at the show!