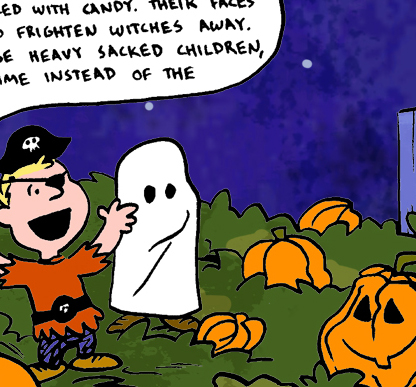 Good Grief, Mr. Schulz!
11/13/2012
When you're a young artist, everything you see inspires you. Quite often the things you discover when you're a child end up leaving a significant thumb print on you're future work and art.
When I was a kid, maybe six or seven, I remember wanting to be a grown up (or at least appear as such). To make this illusion complete, the one thing I knew grown ups did was read the newspaper in the morning. So that's what I did... the only problem was that the newspaper was boring! It was filled with column after column of dull text about politics and finances and sports, stuff that my young mind wasn't interested in. I mean, why would someone choose to read the paper over Saturday morning cartoons anyway?
Then I found the comics page and that was it. It was there that I met Snoopy and Charlie Brown and the whole rest of the gang. I related to Linus a lot then, since I still had a favorite security blanket. Peanuts and Garfield where some of the first comics I ever read. Followed shortly there after by Dick Tracy and Teenage Mutant Ninja Turtles.
It's weird to think about how these comics changed my life and how they creep into my current work without me even realizing it. I can't look at Ruffians without seeing the Dick Tracy-esque villians in all of the supporting cast. Scar and Malt are definitely products of my love of the Ninja Turtles and Looney Tunes. The Drunken Cat's love of booze can only be matched by Garfield's love of lasagna. In then there's Mr. Pumpkin...
When Derek and I wrote the script for Mr. Pumpkin I finally saw my chance to pay tribute to the great Charles Schulz. A man whose work put a significant thumb print on my young mind. A man whose simple lines changed my life. Hats off to you Mr. Schulz, I hope you finally found the Great Pumpkin.
Tweet